Are You Inspired to Bring Mindfulness Into Your Therapeutic Work?
Would you like to have access to the insights of fellow clinicians experienced in applying mindfulness in therapy?
Would you like to earn CEUs while learning about a variety of mindfulness and compassion-based therapy approaches?
Are you looking for ways to attract new clients who want to include mindfulness and meditation practices as part of their therapeutic work?
Along with professional growth, are you seeking a community of colleagues interested in inner development and well-being through contemplative practice?
Have you been overwhelmed by the variety of mindfulness offerings for therapists, unsure how to assess their quality?
The Institute for Meditation and Psychotherapy (IMP) has been training clinicians for more than 25 years. There is a wealth of knowledge and experience in our community, and our mission has always been non-profit driven.
We're an inclusive community of individuals dedicated to the support and training of clinicians in the integration of mindfulness meditation and psychotherapy. We've been leading the mindfulness training world since well before the current wave of trainings. IMP has cultivated a nurturing cohort of diverse professionals who can support, share and be inspired together in both professional and personal development. 
How Will You Benefit by Becoming a Member
Membership provides a lively and welcoming community that supports and connects you to the growing cohort of practitioners of meditation and psychotherapy. Anyone who shares an interest in the integration of secular Buddhist psychology and mindfulness with psychotherapy is invited to join. 
The numerous educational programs sponsored by IMP are designed to foster the exploration and application of mindfulness for enhancing the therapy relationship, clinical interventions, and the well-being of the therapist.
Benefits of Membership Include:
Earn CEUs by attending IMP-sponsored seminars, courses, and the IMP Certification program.  Members receive discounts on these and other programs. Deepen your learning on various topics related to the intersection of clinical work and Buddhism, as well as other meditation and mindfulness practices. 

Join the IMP email discussion Listserv, and interact with peers, including authors and experts in the field. 

Take advantage of opportunities to network and join study, practice and writing groups with like-minded professionals

Get listed in our Member Directory, and network with other members who are also listed in the directory.

Find new clients by purchasing an add-on listing about your practice in our Clinical Directory

Stay informed about meditation and mindfulness psychotherapy topics through the IMP newsletter, the Cushion and Couch quarterly e-journal, the IMP Film and Lecture series, our Conversation Series, and more

Stay informed about events put on by other members, and post your own events in our Member Happenings page, and the IMP Facebook, Twitter, and LinkedIn pages.

Submit articles that can be featured on our Member Articles page

Access our series of guided meditation recordings

Be part of the work and mission of IMP through opportunities to work/consult with IMP faculty, through volunteer opportunities to help shape the Membership organization, and through both online and local (Cambridge, MA) events

Join the public IMP meditation group on Insight Timer
"IMP is legendary, really, as a hub of deep personal practice combined with deep clinical acumen. It's great!"
– Rick Hanson, psychologist and author of Buddha's Brain and Resilient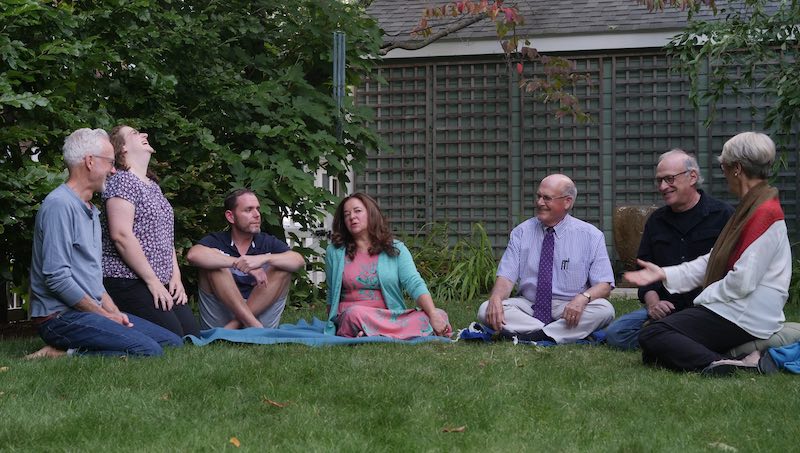 Membership Fee
Student Membership – $25 for 12 months
Early Career (first five years of practice) – $50 for 12 months (or $115 to also be listed in the Clinical Directory)
Established Career (after five years of practice) – $75 for 12 months (or $150 to also be listed in the Clinical Directory)
Be Included in Our Clinical Directory (add'l fee)
Any member who is a licensed mental health professional can be listed publicly within the Clinical Directory on the Find a Therapist page of the IMP website for an additional fee. This directory is useful for prospective clients and therapists seeking referrals to therapists with particular interest and specialty in mindfulness-based and mindfulness-informed clinical practice. Listings include type of practice, location, contact information, specialties, and insurance options.
Cost of Clinical Directory Listing Per Year:
If you wish to be included in our clinical directory, when you start or renew your membership you can choose to pay an extra fee to be included (not available with student memberships):
$65 for Early Career members

$75 for Established Career members
Note: the clinical directory listing must be purchased at the time of starting a new membership or upon renewal. This fee is on top of your annual IMP membership fee.
The Vision of The Institute for Meditation and Psychotherapy
The vision of IMP is practice-based, and all teaching faculty have extensive personal and professional experience in the practice of mindfulness meditation or other mindfulness practices. Most of our educational programs offer CEU credit for psychologists, social workers, licensed mental health counselors, licensed marital and family therapists, and nurses. Secondary activities of IMP include psychological consultation to meditation centers, clinical supervision, psychotherapy referrals, and networking for interested clinicians.